Ed Leber
Executive Pastor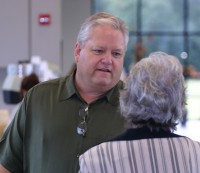 Ed is a native of the Milton area. He met and became close friends with Senior Pastor, Doug Holmes in Mr. Vaughn's 3rd grade class at East Milton Elementary School. He is married to his first love, the former Becky Murphy of Bagdad, Florida. He has three wonderful children and four (even more wonderful) grandchildren.
While Ed attended church regularly as a child, he made a life changing commitment to Christ in 1988 and began serving at CLC in several ministry roles including serving as a children's church volunteer, sound technician, finance board member and vice president of CLC's Board of Trustees.
Ed's administrative background was gained through years of small business management, as well as management experience in in the insurance industry. His duties as Executive Pastor are as varied as his ministry experience, but he has the primary responsibility of day-to-day church operations, personnel oversight, finance, ministry processes and new ministry development.